Portable tanks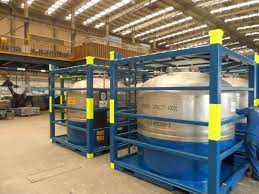 As an organization that is committed to delivering excellence consistently, Container World Offshore is at the forefront of streamlining logistical requirements for our stakeholders. Our containerized solutions are particularly valuable in the category of portable tanks.
We supply tanks that are suitable for the transportation and storage of hazardous liquids, waste liquids, fuels, and chemicals from the drilling process. Container World Offshore also offers tanks that are suitable for the transportation of liquid nitrogen.
Container World Offshore offers 4000L portable tanks that are designed for the transportation of hazardous liquid cargo. The main material used to manufacture these tanks is predominantly carbon steel frames that are specifically designed for repeated use in various transportation and floating offshore installations and ships.
One of the core features would include our vertical portable storage tanks that are rigorously tested to withstand the dynamic lifting and impact forces that could occur during handling in open seas. An important aspect to take into consideration is that our portable tanks are Bureau Veritas certified.
Additional categories of Container World Offshore are the helifuel tanks that are used for the safe handling, transportation, and storage of helifuel both on and offshore. The 10' Cryogenic Tanks are also used for the safe handling, transportation, and storage of liquid nitrogen primarily for wells, pipelines, and processing equipment operations.
Capacity considerations are important and should have reusable characteristics for transporting bulk liquid and granular substances such as solvents, pharmaceuticals, and chemicals.
Contact Container World Offshore for more information.