Mini Offshore Containers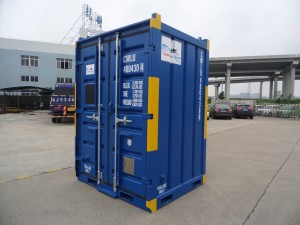 Container World Offshore is a specialist in the container and shipping industry and holds their client's requirements in high regard.
This article will be focusing on our product offering for offshore containers. Container World Offshore has mini containers that include a full length and removable shelf. These specific features make mini offshore containers well suited for the transit of drums and smaller cargo requirements.
An interesting aspect to consider is that these mini offshore containers are standard with door cargo nets and door tie back retainers. Some specifications to take special note to include the Length of 1692 millimetres, Width of 1967 millimetres and a Height capacity of 2770 millimetres. The payload category extends to approximately 4000 kilograms and a Tare capacity of 1700 kilograms.
Mini offshore containers are widely used in the oil and gas industries for transporting small items such as supply ships between oil rigs. However, the offshore containers can vary in specifications to accommodate for other applications that can extend to pharmaceutical industries, construction contexts and other marine type operational projects.
Due to the regulations and highest calibre of standards that Container World Offshore continues to include in their manufacturing and design capacities, mini offshore containers could be used at major ports as well as transport storage facilities.
If you are on the lookout for specific requirements related to mini offshore containers, contact us today.