Types of Storage Containers
Logistical processes are streamlined with Container World Offshore various types of storage containers. We are a dynamic organisation with robust solutions to accommodate versatile requirements and specifications.
In this article, we will be identifying the different types of storage containers available from Container World Offshore. In addition, the specifications and various applications will be further identified.
Container World Offshore has standard shipping containers that are used to carry international and domestic general purpose cargo.
Container World Offshore standard dry van/dry freight shipping containers are used to carry and store the majority of international and domestic general purpose cargo. Fitted with 32mm marine ply board flooring, 4  lock rods and corner casts. All Container World Offshore Containers have been designed and manufactured in accordance with DNV2.7-1 / BS EN 12079.
Our units are supplied with certified slings and shackles as standard. Offshore Dry Goods Containers are supplied with door cargo nets and door tie back retainers. All units are stackable where deck space or yard space is at a premium.
All shipping containers can easily be transferred from one mode of transport to another. Transport types include sea, rail and truck.
Specifications are as follows:
20ft Offshore Dry Van – Steel
L – 6058mm x W 2438mm x H 2591mm
Tare – 3800kg
Payload – 10000kg
MGW – 13800kg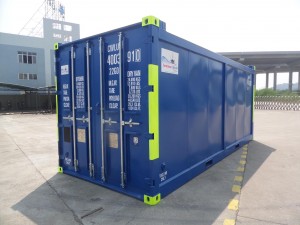 Look no further than Container World Offshore for more storage container solutions.